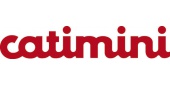 Catimini
Catamini is a French children's brand that is gaining popularity and will slowly rise to the top all over Europe. The children are all into their own in this brand with cheerful colours. The clothing is always enhanced by embroidery and decorations.
Find 376 Catimini products from one shop on SALE at Fashiola.co.uk.
Get up to 90% off on Catimini products!